Advantages of living in Andorra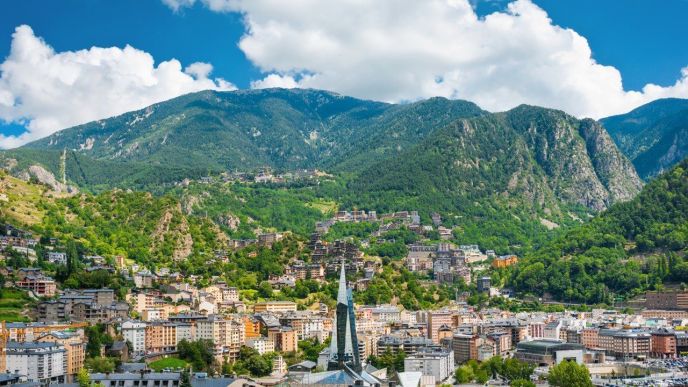 #1. Citizen safety
If you are looking for a safe place to live, Andorra takes the gold medal.
International organizations accredit that it is one of the countries with one of the lowest crime rates.
Without going any further, the Crime Trend Survey of the United Nations, the global crime statistic published annually by the United Nations Office on Drugs and Crime, mentions every year that in the Pyrenees there is a low incidence of crime.
To the point of placing the crime rate in Andorra at 153.9 people convicted of crimes per 100,000 inhabitants.
 #2. Tranquility, natural environment and good weather
People ask for little to be happy. And one of the most common demands when looking for a place to live is tranquility.
The tranquility in Andorra is inevitable, in addition to being in an admirable natural environment that offers short distances between the populations.
Which means you'll be able to tour the country in a jiffy, visit places with admirable views, and enjoy more than 2,000 hours of sunshine a year.
#3. Proximity to major cities
We know that living in a quiet place, with spectacular views and a low crime rate is great, but that sometimes it is necessary to have a great city that provides us with new experiences.
Andorra also meets this requirement, since we have important cities near us.
For example, Toulouse is 184 km away, while you can plant yourself in Barcelona in less than 3 hours by car, since it only separates us from it 193 km from it.
#4. Cosmopolitan population
How many nationalities would you say visit Andorra each year?
You will be surprised to know that there are more than 100 who choose us as part of their holidays or tourist destinations, so our population is the most cosmopolitan, since we have 4 common languages:
Catalan
Spanish
Fench
And Portuguese
Wouldn't you love for your children to grow up in this environment? Well, then listen to the following advantage...
#5. 4 different education systems
Talking about the educational system of Andorra can only be done in the plural, because we have 4 different systems.
We have the French, Spanish, Andorran and English education system.
Let us explain a little what each one consists of:
The French education system
It responds to an agreement between the Andorran and French Governments which was signed in 2004 and is fully financed and subsidized by the latter.
Its base and vehicular language is French and you can find numerous centers of maternal, primary and secondary education.
The Spanish education system
It depends on the Spanish Ministry of Education and promotes the Spanish language, culture, history and geography.
The base language of this educational system is Catalan since it is the official language of the country, but Spanish and French are considered vehicular languages in education and are so in many subjects of education.
The Andorran education system
This educational system is quite similar to Spanish, with the difference that it seeks to promote the identity, values, culture and geography of the Principality.
In addition, it is based on the rights, freedoms and principles established in the Andorran Constitution.
The English education system
Unlike in the previous ones, this educational system is not public, but is carried out through the British College of Andorra, a private school designed for English emigrants or other people who do not want to join any of the other three public systems.
There are options for all tastes.
#6. Ski resorts
Do you like skiing? Whether you've never tried it, now you have an unparalleled opportunity in your hands.
There are currently three large ski resorts in Andorra, perfect for enjoying the snow: Grandvalira, Vallnord and Naturlandia.
There are also others like Parador Canaro, where you can spend a spectacular day with your family.
#7. Citizenship Services
One of the most erroneous conceptions that many people have is that, being between mountains, in Andorra there is a lack of all kinds of services for citizens, which is completely wrong.
In the Principality you will find all the services you may need in your day to day, whether catering, banking, business centers, sports, health …
All without you having to be moving to the big cities that we have mentioned above.
Now that you know its advantages... are you coming to Andorra?
After knowing everything that awaits you in this paradise between mountains, we have a proposal to make you.
From PSF we take care of helping you make your move to Andorra as simple and pleasant as possible.
We take care of everything: from your company to your family so that you get this change of scenery as abrupt as possible and an incredible experience.
Just send us a message to info@psf.ad and we will contact you to tell you how we can help you start your new life in the Pyrenees.