Andorra: a natural paradise for lovers of the outdoors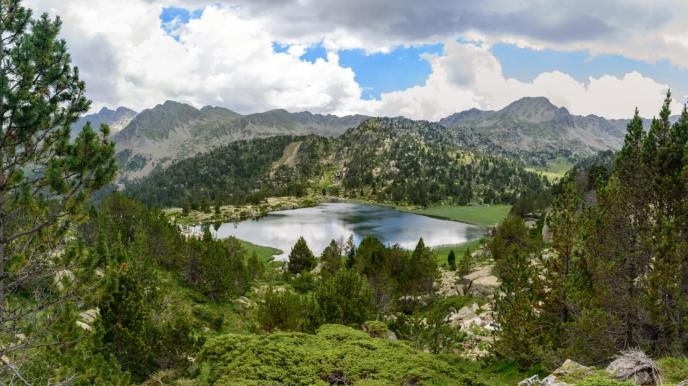 As you well know, Andorra is a unique country
You only need to see a photograph of the valley to realize that what's here is nowhere else in the world.
It is one of the few countries that dedicates 90% of its surface to natural spaces.
While in many countries the urban reality has surpassed the natural one, here the true value of these spaces is protected.
And if you have these spaces, the goal is to make the most of them.
For this reason, the initiative of the Government and many private companies has been to enjoy outdoor plans.
To offer both those who live here and those who come to enjoy the good weather of leisure activities outdoors.
Designed for all ages, for all physical states and to enjoy alone or surrounded by loved ones.
#1 Andorra is a country to travel by bicycle
Little is said about this outside of Andorra.
Every summer, our country becomes the meeting point for thousands of cyclists who come to test themselves in the mountain passes and challenges offered by this area.
Thanks to the natural conditions that the country presents, there are spaces where both the beginner who has just joined the passion for pedals and those more experienced who want to overcome their own limits will enjoy.
Whether you come with the bike or rent one of them in the multiple points where you can do it, you will return home even more in love with this sport.
(And probably from Andorra as well).
#2 The search for the Tamarro
You may have never heard of tamaros, but when you know their history you'll want to find out everything about them.
Are you interested in this legend?
"According to legend, the Tamarros are small magical beings hidden in the forests of Andorra who have committed their lives to a very specific mission: to protect nature.
Yes, of the Dirt specifically with capital D.
Because Dirt is a dangerous troll hidden among the mountains that will destroy life wherever it passes.
It is like Attila's horse, but in Andorran version.
As the power of Dirt is very high, sometimes the Tamarros cannot stop it on their own and ask for help."
For this reason, when you arrive to Andorra you must commit to the goal of leaving the country a little cleaner than when you arrived.
#3 Freeze to beat the summer heat
Yes, also in summer we propose you to enjoy the cold weather... sounds good, right?
There is a place in Andorra that few people know about called the Palau del Gel.
A space located in the town of Canillo that is prepared for you to spend an incredible day with many activities.
As you can imagine, one of the main ones is ice skating.
Whether summer or winter, the rinks of this place are always open so that anyone who wants to relax with skates can do so.
But this is not the only thing we find in this place. In addition to all this, it offers you:
Teaching lessons.
Music night lessons

.

Ice karting — this is unforgettable —.
And much more.
But as with all great experiences, words are not enough.
If you really want to experience everything that a place like this has for you, you have to come and experience it.
#4 You can do it: become the king or queen of the world
Imagine the following situation.
Wake up one day surrounded by mountains and the first feeling you have is to breathe fresh air.
That air that when it enters through our nose we feel purifies our whole body.
Do you have it in mind?
good.
Until a few decades ago the countryside and natural life was part of all of us, but during this century it seems that we have forgotten.
Luckily, you only need to experience it once to understand that it's something we should all aspire to.
For this, in Andorra hiking is a crucial part, it is equivalent to what skiing is in winter, so it has a series of high mountain refuges to which you can go freely to enjoy a unique night.
A perfect plan. Both alone and accompanied.
#5 Andorra's lakes have magic: here's what you'll find
It is one of the great attractions of this country, it is one of the places fullest of magic and energy, which is hidden among the Andorran mountains.
Just by looking at them we can have that feeling.
There are more than 70 lakes of different sizes, most of them of glacial origin.
You will find a green landscape that culminates in crystal clear water and spaces full of life that give value to that unique space.
A perfect place to make numerous routes or activities in its surroundings. It is one of the attractions that no one wants to miss.
Is there the possibility of making more plans in Andorra in summer?
Yes of course.
But what we know is that if you have fun with any of these you will want to repeat over and over again the next few years.
Among everything we have mentioned, you have space to choose magical adventures, sports and even to be cold in these hot months.
What do you prefer?
If you want to know more about these plans or would like to receive more information about life in Andorra, you can write to us through our contact page.
Send us any questions you have and we will always respond in less than 48 hours.